Speedball
Sunday, November 07, 2004

At the behest of organizer Brian Dale (personal motto: "We don't need no stinkin' snow!") a motley crew of Crested Butte Nordic Master Skiers held an impromptu game of "Speedball" Sunday November 7th at the C.B. South playing fields. Local nordic regulars included Brian, Taylor, and Carol Dale, Bill and Amelie Kastning, Rich, Kathy, and Hannah Smith, Brian Krill, Martin Catmur, and Graham Ullrich. Joining the CB squad were five recent graduates of the University of Vermont: Stephanie, Justin, Kasey, Molly, and local standout Andrew Kastning. Apparently all five were star players on the famed UVM varsity speedball team.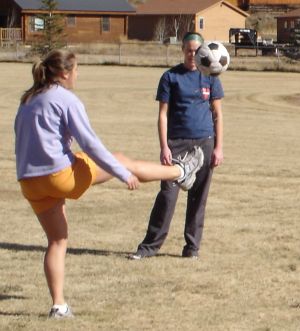 They quickly showed us how the game is really played, with accurate passes, amazing catches, and stellar scoring. However, despite their awesome technique and excellent conditioning, the storied ex-UVM players were somewhat hampered by the lack of oxygen at 8500'. As a result, as is so often the case, the Crested Butte locals held their own.
For those of you who don't know, speedball is a wacky combination of ultimate frisbee and Gaelic football. Two cones at each end of the field denote goals; the object of the game is to move the partially deflated soccer ball down the field and pass it "through" the goal to a member of your team. When a player gets the ball they can only take five steps before passing it to another player, and must juggle the ball from hand to hand while running. If the ball is dropped to the ground the other team takes possession. Simple really.
Two evenly matched teams played forty five minutes of non-stop speedball before taking a break. Halftime entertainment was provided by local frisbee experts, which allowed the UVM players to catch their collective breath. The second half of play was marked by a change in strategies as the teams tired - "play smarter, not faster" seemed to be the motto. Eventually the game reached its logical conclusion and everyone was declared a winner.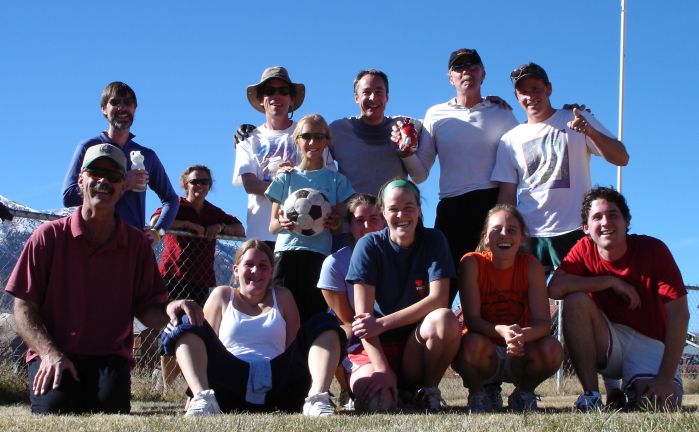 Conditions permitting, next Sunday November 14th Brian will organize another match. Call him later in the week for details: 349-5107. The more the merrier.
Look for the UVM stars in town this winter. They will be coaching the local junior nordic team, waiting tables, helping sell real-estate, and loading chairs at CBMR.