WSC XC Nordic Clinic
Friday, December 03, 2004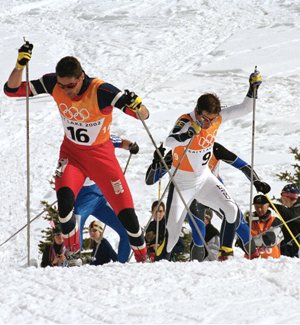 UPDATE: The clinic was a success - The CB Nordic community contributed $440 to Coach Jesse Crandall and his talented skiers. They hosted a quality clinic attended by sixteen skiers of all levels. Jesse indicated plans for a second clinic in late January in preparation for the Alley Loop.
This Monday Dec. 6th the C.B. Nordic Center will host a nordic skiing clinic given by the Western State College XC Ski Team. The clinic runs from 3 pm until 5 pm; you are welcome at any time. Coach Jesse Crandall and the team will give ski and racing pointers. Your $20 fee goes to help the financially strapped WSC XC team pay for race entry fees, among other things. They are in tough financial shape due to budget cuts and could use your help. Feel free to leave a donation at the Nordic Center even if you cannot attend.
Bring either your skate or classic XC gear - they will coach you on either discipline.
Remember: Monday, December 6th, 3-5 pm at the Crested Butte Nordic Center.