Duke Macallan
Monday, October 24, 2005
On Saturday October 22, 2005 we picked up Duke Macallan, a Brittany Spaniel, to join Ceilidh in our family. Duke came from Houston, Texas. He was abandoned in Houston's Miller Park in early October. His foster parents wanted to keep him but already had two dogs. Instead they contacted a representative of the American Brittany Rescue group. The ABR representative knew we were looking to adopt an intelligent, handsome, young, athletic, friendly Brittany and called us straightaway. After viewing some photos and speaking with the foster mom we decided that Duke was the guy for us. Amazingly enough, the ABR representative was leaving for Colorado, Poncha Springs to be exact, in two days time. After Duke passed his medical tests at the vets office in Houston he jumped in the truck for a twenty-four hour drive to the mountains. We took Ceilidh over Monarch Pass to have the final OK. She was overjoyed to have a big brother to play with.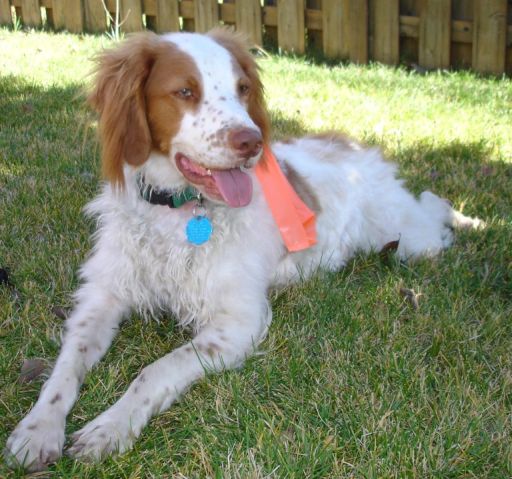 Duke seems happy here. He plays with Ceilidh all the time - knocking her down like a rag doll. He is 40 lbs. (a little overweight) while Ceilidh (at the moment) is 12 lbs. Nevertheless she keeps coming back for more and they have lots of fun roughhousing. We had Duke micro-chipped with the HomeAgain system, in common use in Gunnison County. This way if he decides to get lost in the National Forest during a bike ride some day whoever finds him will be able to determine that he lives with us. That gives us a bit of peace of mind since Duke seems to enjoy the call of the wild. As you can see in the photo above we've outfitted him with the best in flourescent surveyors tape for hunting season. We don't think he looks like a deer or elk but better to be safe than sorry.
About his name... Since he was abandoned (not an owner-surrender) we don't know his original name. He is between one and two years old and was obviously trained in his previous life. He knows "sit" and "down" and "shake". However he doesn't respond to "come". We think that may have something to do with us not knowing his name. Before he arrived we compiled a long list of possible names with Jameson and Macallan topping the list. However when we picked him up the ABR rep told us that he pricked up his ears upon hearing "Duke". During the last two days we noticed the same effect so we're going with his choice and adding "Macallan" just for fun.
Duke is neutered, vaccinated, and licensed in Gunnison County. We hope that his only encounter with John Gallowich (our local animal enforcement officer) is on the end of a leash. Feel free to come by FlyingCracker headquarters and say hi.