Bridges of the Butte 24-Hour Townie Tour
Tuesday, June 19, 2007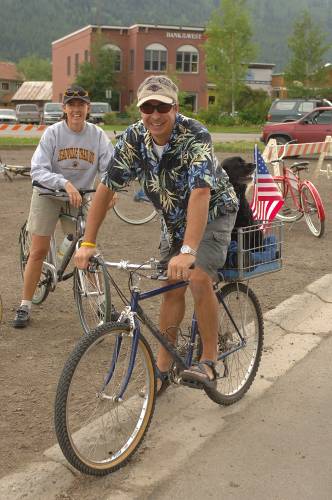 Join the flyingcracker gang for C.B. Adaptive Sport Center's "Bridges of the Butte 24 Hour Townie Tour" on Saturday June 30, 2007! Ride with us and help support the Adaptive program.
We have ridden the "Tour" every year and always have fun. This is a relaxed ride, not a race. You pedal as much or as little as you like. You don't have to ride at night, you don't have to be there for all 24 hours. Just bring your townie and a smile. In true Crested Butte fashion the BB24TT attracts all sorts of costumes and bike decoration so participating in the spectacle is doubly rewarding. Entry fee is $24 per person (cheap!) with all proceeds benefitting the Adaptive Sport Center.
Send us an email (graham at flyingcracker dot com) or call (349-5969) to join the flyingcracker squad. You are welcome to join us even if you have just a few spare hours Saturday 6/30/07 or Sunday 7/1/07. Night riders are especially appreciated...
P.S. The first two years we transported our cocker spaniel Toby in a milk crate duct-taped to the back of an old mountain bike. The photo at left shows our happy team from 2005. Toby was so trusting that even as our bike tipped over on rain-slickened curb, he sat in the crate, certain he would be safe. Toby passed away shortly after this ride but his spirit remains with us on the BB24TT.