Pioneer ski area
Tuesday, August 22, 2006
Sunday I took Duke for a nice ten mile ride up Cement Creek road past the ranch. He is beefy and strong, so ten miles isn't too much effort. However, Ceilidh just can't go that far and she stayed home, somewhat unhappily. When we returned Ceilidh jumped up and down, asking Duke, "where did you go? what did you smell?", etc. Obviously she needed some vigorous exercise, a run more suited to her size, so we piled her in the car and drove to the bottom of the cave trail on Cement Creek road.
Ceilidh and Duke know the route, we've done it many times this summer. It's the standard C.B. South after-work gut-buster. Up C.C. road, left onto Walrod Gulch, left onto Walrod cutoff, up, up, up, across, up, up, and topping out by the caves, then down, down, down to the car. Duke and Ceilidh love the trail, although Ceilidh had a big scare several weeks ago. Here is that story...
I was slowly pedalling uphill on the last climb of the ride. Ceilidh couldn't stand running behind me and kept trying to position herself to the left of my bike (on a 12" wide trail) despite admonitions to the contrary. Finally her big shaggy right ear flopped up at the wrong moment and got caught in my rear wheel disc brake. OUCH! She was pulled tight to the wheel and only came free after I stopped and rotated the wheel backwards. She suffered a small slice and some swelling but recovered in a few days. And not that anyone really cares, but I had to replace the rear disc rotor because Ceilidh's ear significantly bent two of the rotor "spokes" and they couldn't be straightened. Finally, to answer your last question, yes, she still runs with me on rides, but now maintains a respectful two feet gap behind the bike.
On Sunday's ride we took a few photos. First up is Ceilidh... note she's hiding her previously injured right ear. The meadow grasses have almost dried up for the season. Most wildflowers are kaput down low here at 9000'.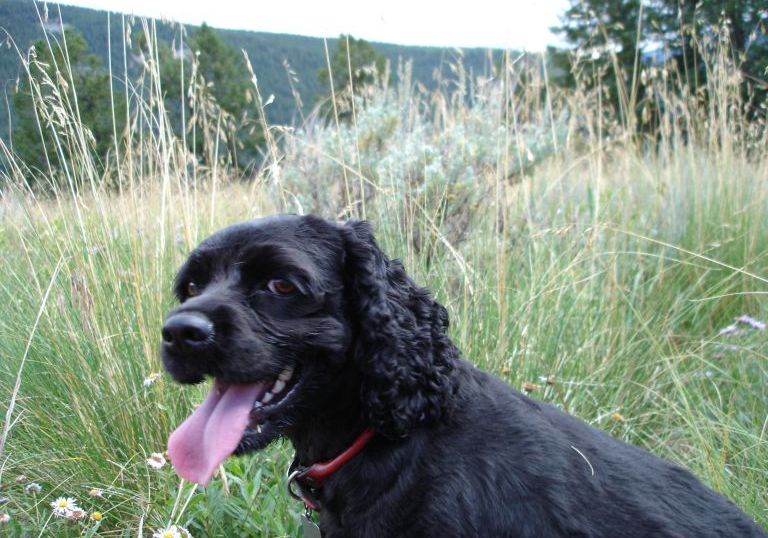 Duke was getting worn out from Ceilidh chasing him everywhere. I'm sure he says, "No fair! I already ran fifteen miles!"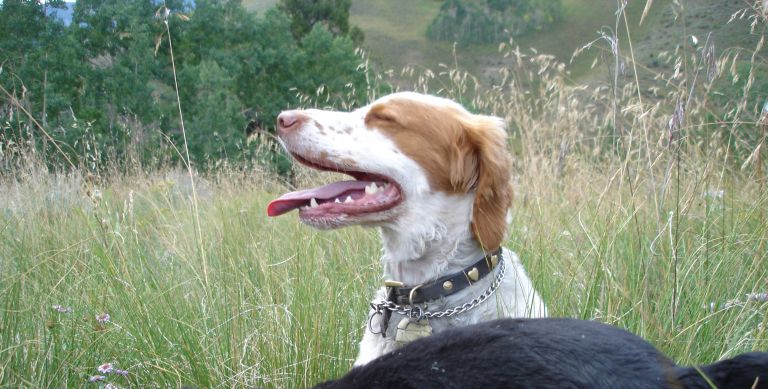 We also got a great bunch of photos of the old Pioneer ski area. A bit of photoshop stitching work later we had ourselves a nice 180 degree panorama. On the far left you are looking up Cement Creek valley towards the C.C. Ranch. In the middle is the ski area. You can see some of the lift lines and ski runs in shadow from this early evening series of photos. On the far right down in the valley you can see the teeny tiny houses of C.B. South. The mountain in the distance on the far right is Whetstone, with the sun slowly sinking towards Kebler Pass.

We have a much bigger panorama file from the same photos. Right-click on the link and choose "Save link as..." to save the file to your computer. The file size is around 546K so it might take a while to download depending on your connection speed. The resolution is much better but the photo is over 5000 pixels wide.