National Trails Day 2010 - Saturday June 5th
Thursday, June 03, 2010
During the Memorial Day holiday last weekend you flew the flag, grilled outside and imbibed beverages with your friends. You honored fallen soldiers from wars past and present. You probably enjoyed great time with family and friends. And like us, you probably thought, "Gee, we sure are fortunate to live in such a beautiful location." You were right, and here is a wonderful way for you to make it better.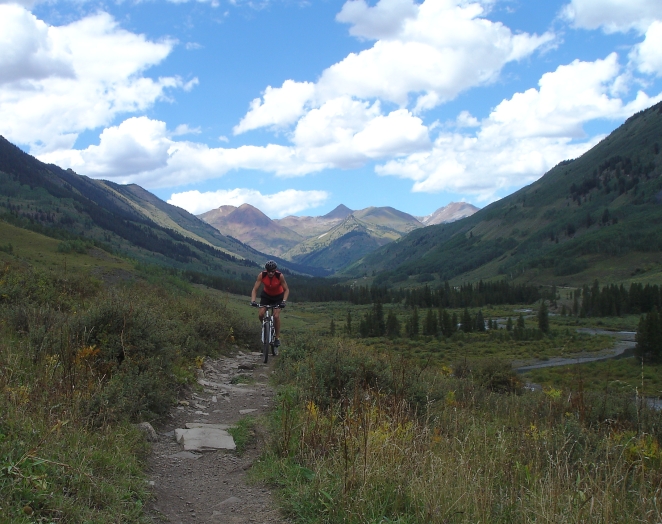 This Saturday June 5th is National Trails Day, a day to celebrate the great outdoors with your family and friends. And what better way to celebrate than helping build an extension of the Lower Loop Trail just outside Crested Butte. You know the Lower Loop trail, you ride or run it a dozen times each summer. Or you walk it with flatland relatives. Or you recommend the trail to visitors, "It's got great wildflowers, spectacular views and is the easiest trail to access from Town." Virtually everyone in the area uses the Lower Loop trail in one manner or another.
Please join the Crested Butte Mountain Bike Association (CBMBA) in conjunction with the Crested Butte Land Trust (CBLT) this Saturday at 9 am. at Peanut Mine. We will work on the new Budd Trail, a 2.5 mile extension of the Lower Loop singletrack. Ride your bike or walk to Peanut Lake, there is not enough room for 200 cars to park out there. Organizers have arranged a shuttle vehicle prowling back and forth from Town to Peanut Mine. Our plan is to park at Mrs. FlyingCracker's office building and ride to the mine. If you get up late don't worry, just grab a quick bite to eat and get out to the trail!
This is a kid-friendly family event. It's great way to show your children how we can work together to improve our environment for all. No experience is necessary and tools will be provided. Wear sturdy work shoes and bring gloves, water and sunscreen. For more information look here or call CBMBA at 349-6817.
From the CBLT site:
"The Budd Trail was donated by Russell and Dorothy Budd and Charlie McBride in 2009, and connects the Lower Loop Trail System. It begins at Peanut Mine, and will thrill cyclists, runners and hikers with a steep climb up the ridge to the west of the Lower Loop. Winding its way through aspen and spruce forests, the new single track trail will offer spectacular views of the Slate River Valley below."
See you there!